Time-saving Tips
They're safe to use on dashboards and interiors.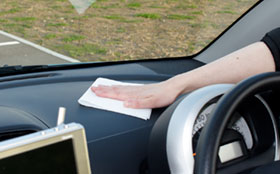 It's so convenient, it can even be used to clean plastic surfaces. For each part you intend to clean, just be sure to test the product in an inconspicuous area to ensure there are no adverse effects to the surface.
The long handle of our "Handy Wiper Glass Cleaning Wipes" is very convenient.

Use it by attaching our Glass Cleaning Wipes to the handle. Troublesome, difficult to wipe areas such as the inside of your windshield can be easily cleaned while comfortably sitting in the front seat. The combination of a flexible head and flexible handle allow you to clean around curves and sharp angles and even deep into narrow crevices.